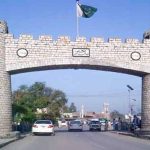 KARACHI: Pak Sarzameen Party (PSP) has named former mayor Karachi Mustafa Kamal its chairman and Anees Qaimkhani its president in an announcement made on Monday to nominate its central officials.
It has been 119 days since PSP had not announced designations for its members to run administrative and disciplinary management. Most of the senior leaders of PSP are dissidents of Muttahida Qaumi Movement (MQM).
Sagheer Ahmed and Anees Advocate will perform responsibilities of senior vice chairman. Raza Haroon has been assigned the responsibilities of secretary general, while Waseem Aftab, Ashfaq Mangi and Iftikhar Alam have took charge of vice chairman.
PSP has said it would not accept any party working against national interest of Pakistan. The party has opened its offices in different parts of the country and in London as well.
Mustafa Kamal has vowed PSP would emerge out to be one of the biggest parties of the country in 2018 elections.
Kamal left Pakistan in 2013 over reported differences with MQM Chief Altaf Husain, and had lived in Dubai since then.