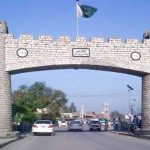 ISLAMABAD: Prime Minister Muhammad Nawaz Sharif has directed Law Minister Zahid Hamid to place the Tribal Areas Rewaj Act 2017 and the consequential amendments in the forthcoming session of National Assembly for consideration.
According to a PM House statement, this will be a major step in fulfilling the government's commitment with the people of Federally Administered Tribal Areas.
The statement said this historic development will usher in a new era of progress and prosperity, besides paving way for the mainstreaming of the tribal areas.
The Federal cabinet has already endorsed the recommendations.