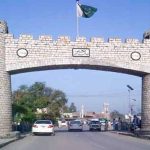 RAWALPINDI: The National Accountability Bureau (NAB) on Sunday arrested Captain (retired) Safdar from Sixth Road in Rawalpindi.
Scores of PML-N workers had surrounded Captain (retired) Muhammad Safdar as a NAB team arrived in Rawalpindi to arrest the convicted son-in-law of former prime minister Nawaz Sharif.
Senior PML-N leader, who was a candidate from Mansehra, reached Rawalpindi in a rally and was leading the procession when the NAB team detained him.
Dozens of PML-N workers surrounded Capt Safdar after he was taken into custody by the NAB's team.
In a message to the workers of Pakistan Muslim League-Nawaz (PML-N), Safdar had assured to present himself for detention after the accountability court issued his arrest warrants in Avenfield reference.
Safdar, who was convicted in Avenfield reference along with his wife and father-in-law on Friday, said in his message he is going to surrender himself at a city chose by his party: the Pakistan Muslim League-Nawaz.
In the the message recorded in Hindku language, Safdar said he had earlier decided to surrender in Mansehra, a town in Khyber Pakhtunkwa 's Hazara division, but now he chose another city decided by the party. He, however, didn't disclose name of the city. The former MNA requested his supporters to back Sardar Yousuf during the upcoming election, expressing the hope that the PMLN would sweep the entire Hazara division in the upcoming election.
He also rejected the impression that he might be backing some candidates other than that of the PMLN.
The accountability court in Islamabad sentenced him to one year imprisonment.
It is to be mentioned here that anti-graft watchdog team had left for Mansehra on Saturday to take Safdar into custody after accountability court verdict in Avenfield reference. The bureau had contacted caretaker government of Khyber Pakhtunkhwa seeking help in apprehension of Safdar.
Safdar's name was also placed on the black list, which means he would be barred from leaving the country.