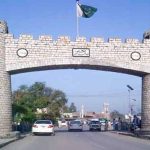 ISLAMABAD: The National Accountability Bureau (NAB) has arrested Karachi Development Authority former secretary Aftab Memon, a close aide of PPP chairman Asif Zardari, in the fake accounts case on Friday.
Aftab Memon faces the charge of transferring seven acres of land in violation of the law and causing a loss of Rs 800 million to the national exchequer.
In an interview with BBC Urdu on Thursday, PPP Chairman Bilawal Bhutto Zardari criticised NAB and said it "was only created to pressurize political parties. If the rule of law was established, there would be no problem today."
The NAB has initiated probes against PPP leaders and even arrested some in corruption cases.