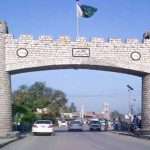 ISLAMABAD: The National Accountability Bureau (NAB) on Friday assured the Supreme Court that it will be filing an appeal against the Lahore High Court's (LHC) decision of quashing the Hudaibiya Paper Mills case against the Sharif family and others.
SC was hearing a petition filed by Awami Muslim League (AML) chief Sheikh Rasheed for reopening the Hudaibiya Paper Mills case. During hearing NAB's prosecutor general assured the apex court that the accountability body will file an appeal against the LHC decision of closing the case.
The matter was heard by the five-judge bench, headed by Justice Asif Saeed Khosa, that was hearing review petitions against the court's July 28 judgment in the Panama Papers case.
The Securities and Exchange Commission of Pakistan (SECP) had submitted the entire record of the Hudaibiya Paper Mills to the Joint Investigation Team (JIT) probing the Panama case.
Earlier, the Awami Muslim League chief, one of the three petitioners in the Panama Papers case, had submitted a petition in the apex court against NAB's failure to reopen the Hudaibiya Paper Mills case.
The petition stated that on July 21, during the hearing of the Panama Papers case, NAB had informed the apex court it would reply in seven days regarding the reopening of the Hudaibiya case.
However, the bureau failed to reply within the stated time period and NAB chairman was even sent a notice in this regard but that too has yet to be replied to, the petitioner claimed.
Moreover, it was stated in the petition that the apex court had also directed for probing the Hudaibiya case in its July 28 judgment.