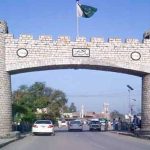 LAHORE: National Accountability Bureau (NAB) Chairman Justice (retd) Javed Iqbal has ordered to probe the alleged corruption in Nandipur power project.
According to a notification of the NAB, director general NAB Lahore has been assigned the task to investigate the corruption in outsourcing of Nandipur power project.
A three-judge Supreme Court bench headed by Chief Justice Mian Saqib Nisar had on June 07 ordered NAB to probe alleged corruption in the power project.