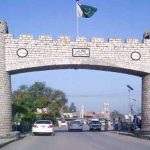 ISLAMABAD: The National Accountability Bureau (NAB) received on Saturday the warrants for the arrest of former prime minister Nawaz Sharif, his daughter Maryam Nawaz and son-in-law Captain (retd) Safdar in the Avenfield Case.
NAB has contacted the Khyber Pakhtunkhwa government for the arrest of Captain (retd) Safdar.
Earlier in the morning, Captain (retd) Safdar was in Mansehra. The Abbottabad DIG said they had not received any instructions to arrest the PML-N leader but added that he would be arrested the moment they receive the order from NAB.
An accountability court sentenced former prime minister Nawaz to 10 years in jail, his daughter Maryam to seven years and Safdar to one year in the Avenfield case.
NAB had earlier asked the court to place Captain (retd) Safdar's name, as well as those of the rest of the Sharif family, on the ECL. The bureau officials believe Captain (retd) Safdar is likely to try to flee the country.