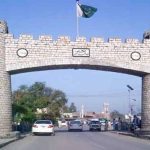 ISLAMABAD: The National Accountability Bureau (NAB) has rejected all the reports that it had summoned Pakistan Muslim League-Nawaz (PML-N) leader Barjees Tahir on corruption charges.
Earlier, media reports suggested that NAB had summoned the PML-N leader for corruption in gas supply to NA-135 constituency.
The reports also said that the anti-graft body had also issued a notification in this connection.
However, a spokesperson of NAB later clarified that Barjees Tahir had not been summoned adding that no proceedings had been taken up against him.