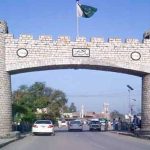 ISLAMABAD: A six-member team of the National Accountability Bureau (NAB) will escort Opposition Leader in the National Assembly Shehbaz Sharif to the Parliament House on Wednesday.
Pakistan Muslim League-Nawaz (PML-N) spokesperson Marriyum Aurangzeb said Shehbaz Sharif will reach parliament at 9:30am where he will chair the party's parliamentary session.
Speaker Asad Qaiser has already issued production orders for the former Punjab chief minister to attend the joint session of the National Assembly on Wednesday.
An accountability court handed over Shehbaz Sharif to the anti-graft watchdog on a 14-day physical remand after his previous 10-day remand ended Tuesday.
The opposition leader appeared in the court amid strict security arrangements where he claimed innocence in a graft case pertaining to the Ashiana-e-Iqbal Housing scheme.
Shehbaz maintains he himself ordered investigation into corruption allegations in the housing scheme and denies awarding contracts to a favourite firm.
He was arrested on October 5 after appearing before the NAB team in Saaf Paani Company scheme. NAB said Shehbaz failed to satisfy the investigation team regarding a tender awarded to a private consultancy firm and was therefore arrested.
The anti-graft watchdog said the firm did not conduct any kind of survey but nevertheless was provided a lucrative sum of 1.5 billion rupees. It added that Fawad Hassan Fawad, the principal secretary of former premier Nawaz Sharif, had become an approver in the case.
Fawad, in his statement, had claimed that he had awarded a contract to a "favourite firm" in the Rs14 billion Ashiana Housing project at the behest of Shehbaz Sharif.
The anti-graft agency said that the contract for the housing scheme was won by a construction company titled Chaudhry Latif and Sons but Sharif cancelled it and later on awarded the contract to Lahore Casa Developers – a proxy group of Paragon City (Pvt) Limited, which is said to be owned by former Railways minister Saad Rafique.