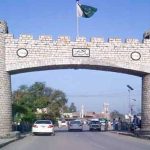 ISLAMABAD: The Council of Islamic Ideology (CII) on Thursday declared National Accountability Bureau's handcuffing of suspects against Shariah and the law.
CII chief Qibla Ayaz said insulting a suspect in the media before conviction is against Islam and human dignity.
He said a committee to analyzse the NAB ordinance has been formed under the supervision of Justice (retd) Raza Khan.
"The committee would review as to which NAB laws are in violation of the Islamic law," Ayaz said.
He further said they have severe reservations over the recently-held Aurat March in the country.
Although the CII chief expressed concerns over attacks on Christchurch mosques, he paid a tribute to the New Zealand PM Jacinda Ardern for her insight.