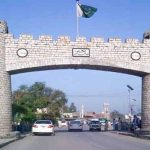 KARACHI: The Sindh High Court (SHC) on Monday heard a plea demanding to shift the Naqeebullah Murder case to another court from ATC.
During hearing Faisal Siddiqui, the advocate of the grieved party said that ATC approved bails of former SSP Malir, Rao Anwar despite case was under trial.
He pleaded SHC to shift the case to another court from ATC, as his client is not satisfied with performance in the case.
SHC adjounred the case till August 20 after issuing notices to Home Ministry, Procesutor General and former SSP Rao Anwar.Naqeeb's Father Shows Lack Of Confidence Over ATC JudgeEarlier on, father of Naqeebullah Mehsud filed a plea to transfer case of extra judicial killing of his son by former SSP Rao Anwar after showing no confidence over judge of Anti-Terrorism Court.
Hearing of the plea against bail of Rao Awnar was held at the ATC.
Father of Naqeebullah by expressing dis satification over judge of ATC said that from the very first day our pleas have not been heard in the case.
Earlier on July 20, an anti-terrorism court-approved former SSP Malir Rao Anwar's bail plea in a case involving possession of explosives and illegal weapons.
The ATC announced its reserved verdict, which was reserved on July 17.
The court ordered Anwar to submit surety bonds worth Rs1 million.
Earlier on July 10, An anti-terrorism court (ATC) granted bail to former SSP Malir Rao Anwar in the Naqeebullah Mehsud murder case.
The former SSP Malir was directed to pay Rs1 million in bail bonds.