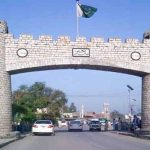 KARACHI: The anti-terrorism court (ATC) which is hearing the Naqeebullah Mehsud killing case will frame charges against the accused at the next hearing.
Naqeebullah Mehsud, a 27-year-old native of Waziristan, was among three others who were accused of terrorism and killed on the orders of Malir SSP Rao Anwar, in what was later termed a 'fake encounter'.
The suspended SSP was also brought to court today in high security, as were the other 12 accused. The investigating officer was also present in the court.
Moreover, the victim's family submitted a petition citing their reservations over Anwar's detention in the Multan Lines in Malir Cantt instead of the central prison.
On the other hand, the suspects' counsel pointed out that the copy of the case is incomplete. The court ordered that complete documents should be submitted to the suspects' lawyers.
Arguments pertaining to the provision of B-class jail facilities to Anwar and Anwar's bail plea will be heard in the next hearing.
On Saturday, Anwar had filed his bail petition, stating that geo-fencing and joint investigation reports and charge-sheet have contradictory information.
The case hearing has been adjourned until May 19.