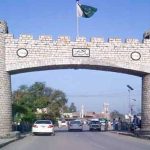 CHAKWAL: Pakistan Tehreek-e-Insaf (PTI) chairman Imran Khan on Sunday said the nation must rise against corruption as corruption is the real problem of the country adding that he is waiting in anticipation for the Panama Papers verdict.
While addressing a public gathering in Talagang town of Chakwal district, Punjab, Imran Khan said that the Pakistani nation has understood that the real problem of the country is corruption. Panamgate is a case of corruption as well as money laundering and unless this country is purged of corruption, we have no future, he added.
"The resistance against corruption has turned into a nationwide campaign and time is not distant when Pakistan will change for good," Imran remarked. "Corruption is to benefit oneself after assuming power, make money out of it and then get waived loans issued from banks," he added.
The PTI chairman accused former president Asif Ali Zardari's close aide Dr Asim Hussain of looting Rs460 billion from the national exchequer. Similarly, he claimed PPP leader Sharjeel Memon was involved in a corruption of Rs5 billion.
Imran went on to advise PPP co-chairman to "acquire the services of a Qatari prince as well," referring to the Qatari letter that the Sharif family presented before the Supreme Court in the Panamagate case.
He, however, said that "there are some people in PPP who do not want corruption."
Criticising the government on the removal of AD Khawaja as Inspector General (IG) police Sindh, Imran claimed that the latter proved a hurdle in the way of corruption.
The PTI chairman claimed he had overcome corruption in Khyber-Pakhtunkhwa and that this had resulted in increased foreign investment in the province.