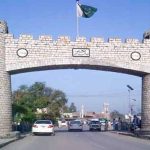 ISLAMABAD: Pakistan Tehreek-e-Insaf (PTI) Chairman Imran Khan said on Monday that the whole nation is standing with the judiciary in speedy dispensation of justice adding the whole nation has pinned its hope on the judicial system of the country.
He made the statement while talking to media outside Supreme Court of Pakistan.
Imran Khan said that majority of the state institutions have been destroyed.
Khan went on to say that that illegal construction is taking place in Bani Gala. "Plazas are being constructed without any code of conducts," he added.
The PTI chief claimed that the government is occupying parks and cutting down trees. "I am happy that Chief Justice of Pakistan listened to my pleas," Khan stated.
Khan said that he will file a reference against National Accountability Bureau (NAB) chairman.
Earlier, Chief Justice of Pakistan Mian Saqib Nisar said that Imran Khan is a national leader and his one statement can put things rights.
During the hearing of a case regarding encroachment of land in Bani Gala, Chief Justice of Pakistan Justice Mian Saqib Nisar praised Imran Khan, saying, "Khan Sahib, you have leadership quality; that is why, masses lend ear to what you say."
"Your one sentence can set things right," the CJP addressed the PTI chief and added, "We need to put the atmosphere of mistrust to rest in the country."
"These institutions belong to the nation; hence, we will have to give them respect," Justice Nisar remarked adding the prestige of the court should not be called in question.
The chief justice underscored the need for all political leaders to set aright their direction.
"I hope you got what I mean to say," he said to Imran Khan and thanked him for raising the issue of illegal constructions.
Imran Khan asserted encroachments, cutting of trees and illegal constructions in Bani Gala are vital issues, adding half of National park has been illegally usurped.
Chief Justice said it is to be delved into how this cancer be eliminated.
Commenting on the defamation campaign on social media against the judges who gave dissenting note in landmark Panamagate scandal case, the CJP Nisar said dissenting notes are given in cases across the globe; but, whatever is happening in Pakistan has hitherto never been seen.