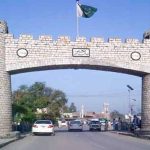 ISLAMABAD: The federal government has presented Pakistan Medical Commission bill in National Assembly amid ruckus by opposition.
The session of National Assembly was marred by opposition but government approved many bills despite ruckus.
The bills approved by the parliament include Medical Tribunal Bill, Pakistan Medical Commission Bill and Government Employees Housing Authority Bill.
Anti terrorism authority bill was also amended by the parliament.
Assembly also approved Naya Pakistan Housing Development Authority bill 2019, inheritance certificate bill and women inheritance rights bills.