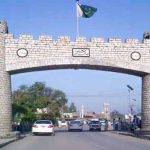 RAWALPINDI: A delegation of National Youth Assembly visited the headquarters of Inter Services Public Relations in Rawalpindi on Wednesday and called on its Director General Major Gen Asif Ghafoor.
The delegation was given a briefing on national security challenges and geostrategic situation. It was also told about military successes in war on terror. The role of Pakistan Army for establishing peace in the region was also highlighted during the briefing.
The delegation appreciated the successes and efforts of Pakistan Army. It said Pakistan Army's efforts for securing peace are laudable.
The youth were informed that miscreants target youth through social media. The delegation affirmed commitment to play a role in stopping the negative propaganda against Pakistan Army.