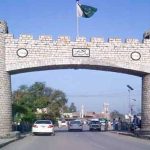 ISLAMABAD: Pakistan Peoples Party (PPP) MNA Naveed Qamar has questioned why the name of former premier Nawaz Sharif has not been put on the Exit Control List (ECL) as yet.
During the National Assembly session on Friday, Qamar questioned the procedure for putting someone's name on the ECL.
"What is the procedure for putting someone's name on Exit Control List," he questioned. "You put someone's name on ECL before [court proceedings] start against them. Even when the Panama case was ongoing, and even now with accountability court hearing cases against the Sharif family [Nawaz's name is not on ECL]. Why is this policy not being followed in this case?"
He further remarked that so many times they have to think what cases can be lodged against this person. "Even before that the person's name is put on ECL."
Calling attention towards this "prejudice behaviour", he stated: "These double standards cannot be followed."
Responding to this, former interior minister and disgruntled PML-N leader Chaudhry Nisar said that the policy regarding putting someone's name on the ECL has changed. "During my tenure, people's names were put on ECL even after a domestic dispute."
A committee of the interior ministry makes the decision on whose names should be put on ECL now. The roles of interior secretary and other ministers have been finished in this regard, said Nisar.
He remarked that the ECL committee should make its decision on merit, adding that the recommendations made by National Accountability Bureau should be reviewed and then implemented.
Nisar, pointing towards Qamar's remarks, said that the reasons behind this contradiction should be disclosed. "Why is one person's name put on ECL, but not the other person's?"
If the committee has made this decision then the reasons should be presented before the assembly, he said, adding "if the committee has not taken this decision then it is the violation of the same merit which they have mentioned." If NAB's recommendations are being ignored then it shows that decisions are being made somewhere else, Nisar added.
Over the controversy, Interior Minister Ahsan Iqbal remarked that he didn't get any request to put the names of Sharif family members on the ECL. "All the cases against Sharif family are being investigated as per law," said Iqbal while speaking to journalists on Friday.