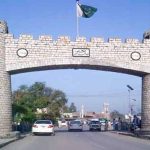 ISLAMABAD: Former Prime Minister Nawaz Sharif on Wednesday held a consultative meeting with the coalition partners in the federal government and discussed the issues pertaining to caretaker setup and overall political situation.
As per details, the PkMAP leader Mehmood Khan Achakzai and National Party Leader Mir Hasil Bizenjo met with the former prime minister at Munir House in Islamabad. The meeting was also attended by Senator Mushahid Hussain Syed and State Minister for Information Marriyam Aurangzeb.
The coalition partners also inquired from Nawaz Sharif regarding the health of his ailing wife Kusloom Nawaz, who is being treated at a hospital in London. They also discussed the political situation in Balochistan and the caretaker setup to be installed for the upcoming general elections.
Later the former prime minister left for Faisalabad along with his daughter to attend a death anniversary event.