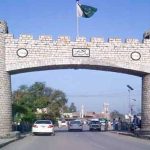 ISLAMABAD: The accountability court will resume hearing the corruption references against former premier Nawaz Sharif and his family today.
Nawaz, his daughter Maryam and son-in-law Captain (retd) Safdar have reached the Federal Judicial Complex where Accountability Court-I Judge Mohammad Bashir will conduct the proceedings.
This is Nawaz's 15th appearance in court.
The National Accountability Bureau (NAB) filed three corruption references against the Sharif family in September last year in light of the Supreme Court's July 28 verdict in the Panama Papers case.
The references against the Sharif family pertain to the Al-Azizia Steel Mills, offshore companies including Flagship Investment Ltd, and Avenfield properties of London.
Nawaz is accused in all three cases whereas Maryam and Safdar are accused in the Avenfield reference only.
All three have been indicted in the cases, with Nawaz's sons Hussain and Hasan declared proclaimed offenders due to their continuous no-show.
The two are accused in all three references.
Two prosecution witnesses recorded their statements in the last hearing held on January 23 before the court.