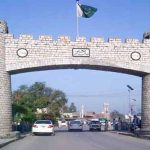 KOT MOMINABAD: Ex-prime minister Nawaz Sharif on Saturday challenged that Pakistan Tehreek-e-Insaf (PTI) Chief Imran Khan would not get any place to hide himself after upcoming general elections in 2018.
While addressing Pakistan Muslim League-Nawaz (PML-N) public gathering in Kot Mominabad, Nawaz Sharif thanked his supporters for participating in the rally and said that this massive attendance is actually verdict of the people's court.
Nation has rejected Supreme Court (SC) decision of disqualifying me in Panama Leaks case, he reiterated.
The former PM said that supremacy of law will be restored at any cost and that ousting him became main cause of slow economic growth in the country.
He also assured to raise standard of living for the poverty-stricken people by ensuring employment to them. He said that PML-N has overcome electricity load-shedding.
Lauding the services of current premier Shahid Khaqan Abbasi, Sharif said that he is working hard for the development and well being of Pakistan. He said that Abbasi has inaugurated various projects to eliminate energy crisis.
Nawaz Sharif further termed youth as his army, saying that this force will bring revolution. He said that judges have to answer the questions being raised by the nation.
Bashing Pakistan Awami Tehreek (PAT) Chairman Tahir-ul-Qadri, Nawaz Sharif said that the conspirer has reached Pakistan to play his tricks.