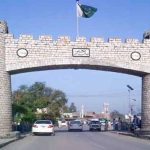 ISLAMABAD: Former prime minister Nawaz Sharif said on Thursday that Prime Minister Shahid Khaqan Abbasi could seek explanation from the Chief Justice of Pakistan (CJP), Justice Saqib Nisar over his remarks he made today.
Talking to media outside accountability court, Nawaz Sharif said that the CJP should not have said what he did today.
He was referring to CJP's remarks that he lost nothing in his meeting with Premier Abbasi but achieved.
He added that every state institution should stay inclusively within its constitutional ambit.
Nawaz Sharif claimed that he never interfered in any other institution's business.
Nawaz also criticized the Supreme Court Justice Azmat Saeed Sheikh for his comments that there is space vacant in Adiala Jail adding such terms should not be used for a prime minister.