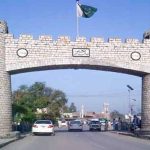 RAWALPINDI: Minister for Railways Sheikh Rasheed on Wednesday has blamed ex-prime minister Nawaz Sharif and former president Asif Ali Zardari for rising inflation in the country.
Speaking to media after offering Eid prayer in Rawalpindi, Sheikh Rasheed said that let the opposition fulfill its desire of protesting against the government after Eid-ul-Fitr.
Will never support those who loot country's money, he added.
The minister said that he has told Prime Minister (PM) Imran Khan about the unemployment and inflation, adding that he wants PTI leader Asad Umar back to the federal cabinet.