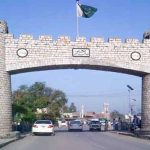 ISLAMABAD: Former prime minister Nawaz Sharif on Monday has said that he had a discussion with PM Shahid Khaqan Abbasi to make National Accountability Bureau (NAB) ineffective.
Talking to media in accountability court, Nawaz Sharif said that the government will review NAB laws after verdict of references against them.
He said that attack on Federal Interior Minister Ahsan Iqbal is deplorable and that it's really depressing after seeing such a situation in the country. He also demanded to hold in-depth investigation into this issue.
Had talked to Iqbal's son on Sunday night and inquired about his health, he added.
The ex-PM said the people have got to know that they are owner of Pakistan and that their decision will matter. He said that institutions follow policies made by the government.
I announced operation Zarb-e-Azb in National Assembly as former interior minister Chaudhry Nisar was unwell, he told.
Nawaz Sharif further said that the state works according to an organised system.