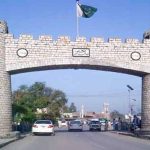 ISLAMABAD: Former prime minister and Pakistan Muslim League-Nawaz (PML-N) Quaid Nawaz Sharif said on Monday he will hold consultation with his lawyer on whether to move an application in the accountability court seeking permission for live telecast of his and family members' trial on corruption charges.
Talking to the media inside the accountability court, Sharif and his daughter Maryam Nawaz reiterated the call for live broadcast of the trial proceedings of the graft cases filed against them by the National Accountability Bureau (NAB).
To a query whether he would file a formal request with the accountability judge to this effect, the former premier said he would consult his lawyer in this regard.
When asked about whether he discussed the names for caretaker setup with the prime minister, he said he had held discussions with him over the matter, but he couldn't reveal details.
Sharif said the Supreme Court's disqualification verdict adversely impacted the country's progress as it was moving backwards instead of progressing. It caused an uncertainty-like situation in the country, resulting in the rupee depreciation and manifold increase in the country's debt.
The former premier, his daughter and son-in-law Captain (retd) Safdar appeared before the accountability court today.
Judge Muhammad Bashir presided over the trial proceedings in the Avenfield properties reference in the federal capital.
Advocate Khawaja Haris, the lead counsel for Sharifs, resumed cross-examination of star witness Wajid Zia, head of the Panama Joint Investigation Team (JIT).