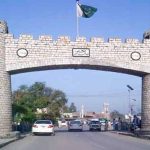 ISLAMABAD: President National Bank of Pakistan, Saeed Ahmad has written a letter to registrar Supreme Court over alleged mistreatment by the Joint Investigation Team, formed to probe offshore assets of Sharif family.
The letter was written to the registrar on June 05. Saeed Ahmad Ahmed first appeared before the JIT on May 30.
NBP Chief alleges, in contrary to apex court directives, the JIT team maltreated him and their behaviour towards him was humiliating and threatening.
The letter further states, Saeed Ahmad says, "When I appeared before the probing team I felt as I was a death row convict."
"I was questioned more than 12 hours in three sessions', he said and added "I was made to wait for five hours before the first session."
NBP President Saeed Ahmad recorded his statement in reply to various questions raised by the JIT members on May 30.
NBP President categorically dismissed the impression that he provided help to Ishaq Dar in committing money laundering in the past and stated that he was given important slots on merit basis.
The sources said the JIT members asked him about the bank accounts through which the alleged money laundering was conducted by Ishaq Dar but he maintained that no such thing was ever done in the past.