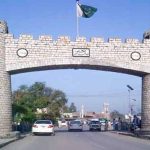 ISLAMABAD: Prime Minister (PM) Imran Khan on Wednesday has chaired a meeting of National Coordination Committee (NCC) in Islamabad and discussed the coronavirus situation in the country.
According to details, the participants also deliberated on the future strategies to prevent the virus spread.
Special Assistant to PM on Health and Dr Zafar Mirza and Chairman National Disaster Management Authority (NDMA) Lieutenant General Muhammad Afzal were also present on the occasion.
Previously, the NCC meeting had decided to extend the countrywide lockdown till April 14.
Federal Minister for Planning Asad Umar informed that goods transport carrying food will remain do their work, while medicines will be available for the general public in all four provinces of the country.
It is to be mentioned here that Pakistan has reported 58 deaths from novel coronavirus while the total number of cases has surged to 4072.
2,030 patients have been tested positive for the epidemic in Punjab, 932 in Sindh, 500 in Khyber Pakhtunkhwa, 211 in Gilgit-Baltistan, 202 in Balochistan, 83 in Islamabad and 19 in Azad Kashmir.
So far, 467 patients have recovered in the country while 25 are in critical condition.