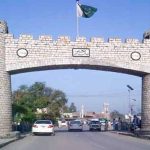 The recent terror incidents have triggered country-wide search operations as law enforcement agencies on Sunday took into custody nearly 200 suspects including Afghan nationals from different parts of the country.
Peshawar police said that 60 people including 27 Afghan citizens were arrested in search operations conducted in different areas of the metropolitan city. Weapons and narcotics were also recovered from their possession, the police added.
Similarly, Bannu police have said that as many as 63 suspects were arrested during search operation in the city and weapons were also recovered from the suspects.
In yet another search operation in Mianwali, DPO Sadiq ali Dogar has said that police and intelligence agencies conducted a search operation in Chador area and nabbed 15 suspects.
A district-wide search operation has also been conducted in Vehari, said DPO Umar Saeed Malik and added that 23 people including 15 fugitives were arrested in the operation.
The entire Kashur district also witnessed a search operation wherein 31 suspected people including Afghan nationals were arrested.
Meanwhile, police have killed a terrorist in exchange of fire in Darakhshan area of Quetta early Sunday morning and recovered weapons, said local police in a statement.