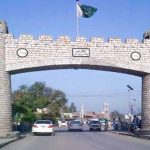 LAHORE: A special court bench has been formed on Saturday to resume hearing of treason case against former president retd General Pervez Musharraf.
Chief Justice of Pakistan (CJP) Mian Saqib Nisar has approved the letter of law minister, stating names of the bench members.
Chief Justice of Lahore High Court (LHC), Justice Yawar Ali will head the bench while Justice Nazar Akbar of Sindh High Court (SHC) will be another member.
Moreover, official notification from the law ministry will be issued soon.
The bench in the treason case had dissolved after Justice Yahya Afridi rescued himself from the bench over the objections of Musharraf's lawyer.