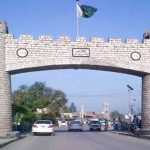 ISLAMABAD: The oath taking ceremony of newly nominated Governor Gilgit Baltistan Raja Jalal Hussain Maqpoon will be held in Governor House in Gilgit on Sunday.
Chief Judge supreme Appellate court Gilgit Baltistan Justice Javed Iqbal will administer oath from Raja Jalal Hussain Maqpoon.
Raja Jalal Maqpoon will be the 6th Governor of Gilgit Baltistan.