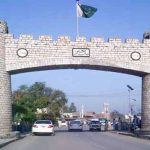 LAHORE: Interior Minister Chaudhary Nisar Ali Khan Saturday held a meeting with Punjab Chief Minister Shahbaz Sharif in Lahore on Saturday.
They overviewed the security arrangements for Pakistan Super League (PSL) final in Lahore.
Shahbaz Sharif thanked the federal government for cooperation in security arrangements for the match.
The chief minister said that every possible step will be taken to ensure security without affecting routine life in the metropolis.
Shahbaz said federal government will be requested to provide helicopters for air surveillance.