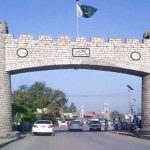 ISLAMABAD: Interior Minister Chaudhry Nisar Ali Khan called on Prime Minister Nawaz Sharif discussed the Dawn Leaks inquiry report and contents of the new notification.
It was also reported that the much-expected press conference of Interior Minister was postponed for certain reasons. Nisar seems to confident to find the ultimate solution to civil military rift after Pakistan Army rejected the Dawn Leaks notification, terming it 'incomplete', according to ISPR tweet.
Nisar's media talk was delayed due to one-to-one meet-up with PM Nawaz on fifth consecutive day.
He was expected to make Dawn Leaks inquiry report public today by holding a press conference in the capital. After meeting with the premier, Nisar also delayed the inauguration of Lahore Mega Center in Islamabad.
Reports said that the government had decided to issue a new notification regarding Dawn Leaks, however, routine consultations were taking place to address concerns of the military leadership.
PM also discussed the visit to Saudi Arabia and China as well as PTI protests with his cabinet members. Earlier, he accepted the invitation of the Custodian of Two Holy Mosques to attend the US-Arab and Islamic Summit in Riyadh.
Nawaz Sharif will attend the summit after his China visit.