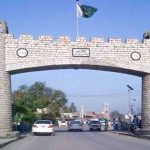 MULTAN: Rejecting Indian army chief's statement regarding secular state, Foreign Minister Shah Mehmood Qureshi Saturday said that ideology of Pakistan would be changed at any cost.
He was talking to newsmen here. The Indian army chief had stated that Pakistan has to become secular state for good ties with India.
The foreign minister hoped that opening of Kartarpur corridor would improve relations between the two countries, saying that the initiative was aimed at facilitating the Sikh pilgrims.
About new South Punjab province, the minister said that as PTI did not have majority for constitutional amendment, therefore, the government seek the opposition's support in this regard.
He said that the government would allocate separate development budget for South Punjab from next year to remedy the imbalance of resource allocation in the province.
Referring to the previous as well as the current year's budget, Quereshi said that "most money had gone to other areas and there was an imbalance".
"We want to fix this imbalance," he added, stressing that the planned development was also the wish of Punjab Chief Minister Usman Buzdar.
The foreign minister said that certain decisions have already been taken at the executive level to provide better facilities to the people of south Punjab.
These steps, he said, included the creation of a secretariat in south Punjab so that the problems of employees and citizens could be solved closer to their homes instead of Lahore — the provincial capital.