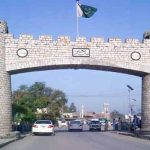 MANSEHRA: Prime Minister Nawaz Sharif Thursday announced that the prices of the petroleum products would remain the same for next month, saying that the OGRA has recommended increase in oil prices.
Addressing the groundbreaking of Havelian -Thakot motorway in Mansehra today under China Pakistan Economic Corridor, the prime minister said that they would not allow one to create hurdles in the way of progress and development of Pakistan.
He said that he has left on development tour, not holding public meetings, adding that he does not believe in politics of public meetings and rallies.
The prime minister said that the PML-N federal government was making the new Pakistan and new Khyber Pakhtunkhwa, adding that the federal government was carrying out development projects in Khyber Pakhtunkhwa. He said that the PML-N did not believe in hallow slogans, but practical work, adding that when Nawaz Sharif inaugurates a project, he also take its completion serious.
He said that the 120-kilometer section will be completed in 42 months at a cost of 134 billion rupees. China Exim Bank will provide ninety percent of the funding, while rest will be arranged by Pakistan. He also announced Rs 1 billion for Hazara University.
The section starts from Havelian and after passing through Abbottabad, Mansehra, Shinkiari ends at Thakot.
The Prime Minister also laid the foundation stones of two gas supply projects.