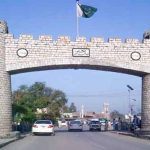 KARACHI: State Minister for Interior Shehryar Afridi on Saturday said that there will be no compromise on country's constitution and law.
Addressing the Pakistan Rangers Sindh's passing out, Shehryar Afridi vowed not to accept any pressure or let anybody blackmail the state. "The state won't be blackmailed anymore nor will it accept any pressure," the minister asserted.
"There will be no compromise on the country's constitution and law," he declared. "No one will be able to cripple us over phone from abroad."
The minister said the state will not compromise the country's interests and citizens' respect.
Lauding the Rangers, he said the paramilitary troops exhibited high performance in every field. "Be it securing the country's frontiers or restoration of peace in Karachi, they have fulfilled their responsibility everywhere."
The Rangers brought peace to Karachi while overcoming all challenges, Afridi said, adding the force carried out more than 16, 000 operations within a period of five years and handed over more than 12,000 outlaws, including terrorists to police after arresting them.
He said Karachi's situation has improved as compared to what it used to be in the past, adding the city has become a hub of economic and trade activities.
The holding of events such as International Defence Exhibition and Seminar (IDEAS), Aman-19 exercises and Pakistan Super League (PSL) in Karachi are the fruits of the Rangers' efforts, the minister said. He hoped the elements that disturbed peace in Karachi won't be allowed to revive their influence in the city.