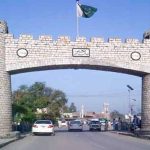 QUETTA: The disgruntled members of Balochistan Assembly are all set to present no-confidence motion against Chief Minister Nawab Sanaullah Zehri in the assembly today (Tuesday).
The Chief Minister needs the support of at least 33 members to make the no-confidence motion unsuccessful.
Similarly, the opposition needs to have the same number at their side.
However, the opposition claimed that they possessed the support of at least 40 members in favour of the motion.
According to media reports, only the no-confidence motion will be under discussion in the meeting today while the speaker will be obliged to call the session in one week for voting.
Following the motion, the cards of the guest have been cancelled whereas private channels have been barred from covering the proceedings.
Moreover, use of mobile phone has also been prohibited for security reasons.
Let it be known that Prime Minister Shahid Khaqan Abbasi paid a visit to Quetta a day before in a bid to impede the no-confidence motion.
He also met several leaders in Governor House and devised a strategy to tackle the situation.
However; the opposition members refused to meet the premier and hold discussions.