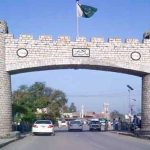 ISLAMABAD: NCOC has approved guidelines for the upcoming festival of Eidul Fitr, recommending congregations at open spaces, brief sermons by Ulema and Khateebs, mandatory wearing of masks and maintaining social distancing rules.
The National Command and Operation Centre (NCOC) gave the nod of approval to the new guidelines during a meeting co-chaired by Planning Minister Asad Umar and Chief Coordinator Lt Gen Hamooduz Zaman Khan.
It has already announced a weeklong Eid holidays, closure of shopping malls and tourist spots, and a ban on inter-city and intra-city public transport.
In its meeting, the NCOC reviewed mobility control measures being implemented countrywide during the Eid holidays stretching from May 8th to 16th. The forum called on people for greater national resolve by adhering to the safety protocols to contain the pandemic.
In a statement after the meeting, the NCOC said that Eid prayers should be organised at open spaces with Covid protocols. If there is a compulsion to offer the prayers in mosques, windows and doors should be kept open for ventilation.
It proposed two to three Eid congregations at one venue with staggered timings to minimise attendance while keeping the Eid sermons brief in order to reduce the prayer timings exposure. The guidelines discourage the sick, the elderly and children under 15 years of age from attending the prayers.
Wearing of face or surgical mask has been made mandatory, while congregation organisers have been asked to arrange multiple entry-exit points at the Eid congregation venues to avoid jumbling up of individuals, install thermal screening at entry points and make hand sanitisers available at the entry-exit points.
Worshippers have been urged to perform Wuzu at home, bring their own prayer mats, observe six-foot social distancing rules at the venue, avoid hugging and handshakes or stay at the venue after the prayers.
The organisers have been told to put up banners at prominent places at the congregation venue, highlighting Covid protocols for worshippers. The guidelines further stipulate that well laid-out parking areas should be prepared for crowd management.
The Eid guidelines have been issued to minimise the risk of the spread of Covid-19 which is raging in the South Asian region. In Pakistan the third wave, fueled by the UK strain of the novel coronavirus started in March, when the single-day caseload soared past 5,000 during the month of April.
However, since the start of May, daily infections are on the decline, showing that the NCOC measures are yielding results. On Tuesday, the single-day tally remained below 4,000 for third day in a row, but the daily death toll hovered above 100.