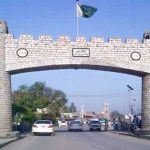 BESHAM: Chief Minister Khyber Pakhtunkhwa Mahmood Khan has said that despite difficulties, the country is on path of rapid progress and development.
Addressing a public gathering in Besham area of Shangla on Thursday, he said government will work for supremacy of Islamic values and no one will be allowed to use religion for political purposes.
Referring to the first ever general elections in tribal districts, Mahmood Khan said PTI emerged as a major party in these areas which shows confidence of tribal people on policies of Prime Minister Imran Khan.
Earlier, former MNA and a leader of Awami National Party Syed Farin Khan and his colleagues joined Pakistan Tehreek e Insaf on the occasion.