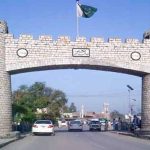 LAHORE: Chief Justice of Pakistan (CJP), Justice Mian Saqib Nisar on Saturday has said that only democracy could prevail in Pakistan saying that there was no place for any kind of martial law in the country.
Addressing an event in Lahore, he said that Quaid-e-Azam only envisaged democracy in Pakistan.
The top judge remarked that there is no room for martial law in either Constitution or anyone's minds. Reiterating his earlier claims, he said that he will step down if democracy ceases to exist in Pakistan.
He further said that Pakistan has been a result of continuous struggle and countless sacrifices. "We didn't get Pakistan as charity or gift."
Chief Justice Nisar, however, lamented that people in Pakistan are not grateful towards their homeland. "Nations which don't have a country of their own are very unfortunate. How can anyone be ungrateful towards their own homeland?" he remarked.
"We are present here because of this country," he added.
Chief Justice Nisar shared that Pakistan's conditions would've been very different if Allama Iqbal had stayed alive few years after the country achieved independence.