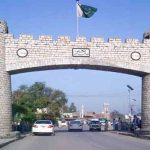 KARACHI: The Director-General (DG) Rangers Major General Muhammad Saeed Wednesday said that no political party would be allowed to create target-killer wing.
Talking to senior journalists here, the DG Rangers said that anti-Pakistan forces won't be tolerated. He said that the law enforcement agencies could not monitor 'thoughts' but they would also not allow any illegal use of weapons.
"There has been a noticeable decrease in crime within four years of the [Karachi] operation," he said. "No incident of terrorism has been reported [so far] in 2017." He also said that 'those who terrorised Karachi' will not be forgiven.
The DG Rangers said that only four incidents of extortion were reported this year and the paramilitary force handed over more than 1400 criminals to the police during the present year.
"Karachi was on the sixth spot on the crime index in 2013, and it now stands on the fifty-second position on the same index," Major General Saeed during the media talk.