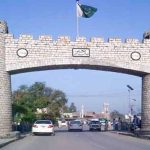 RAWALPINDI: The Counter-Terrorism Department (CTD) has distanced itself from an investigation into the murder of Jamiat Ulema-e-Islam (JUI) head Maulana Samiul Haq.
An apparent lack of interest on part of the police has also resulted in zero progress in the murder case. Authorities are yet to trace date from the cellphone of Haq.
They are not even aware as to who and how shifted the critically injured JUI-S chief to the hosptial. The team tasked to investigate the murder had obtained some material from the crime scene.
However, no details have been released as of yet which have raised suspicion that attempts are being made to downplay the high-profile murder of Maulana Samiul Haq.
Maulana Samiul Haq was assassinated in a targeted attack in Rawalpindi on Friday. He sustained injuries in a targeted attack at his house in a private housing society in Rawalpindi's Gulraiz area.
He was shifted to local hospital for medical assistance where he succumbed to his wounds. Haq's son Maulana Hamidul Haq confirmed his death in the attack.
Haq was laid to rest on the premises of his madressah, Darul Uloom Haqqania, Akora Khattak on Saturday.