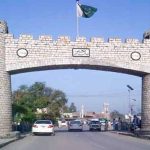 LONDON: Federal Minister for Law and Justice Barrister Farogh Naseem has said that there is no truth behind rumors that the government is being toppled.
The law minister talked to media and stressed that all allies of Pakistan Tehreek-e-Insaf (PTI) are standing with the incumbent government.
Farogh Naseem maintained that the government will oppose to allow Pakistan Muslim League-Nawaz (PML-N) vice-president Maryam Nawaz to travel abroad and will move the Supreme Court (SC) if she is permitted to go to London.
Also read: Laws being framed to protect vulnerable segments of society: Farogh Naseem
Maryam Nawaz wants to travel to London to inquire after his father and PML-N supremo Nawaz Sharif's health but there is no legal clause which allows her to do so, the federal minister added.
Farogh Naseem stressed that the government will take action against the sugar and flour mafia with full strength. He told that the government is not legislating to control social media.