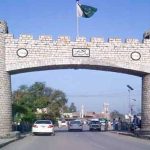 ISLAMABAD (Khyber News): The Cabinet Division has on Tuesday issued the notifications of Hammad Azhar's appointment as Finance Minister and removal of Dr Abdul Hafeez Shaikh from the aforementioned post.
Sources familiar with the matter informed that the decision – as part of another cabinet reshuffle – was made by Prime Minister Imran Khan on Monday in an important meeting which was attended by Information Minister Shibli Faraz, Moeed Yousuf, Zulfi Bukhari, Malik Amin Aslam and other leaders.
Information Minister Shibli Faraz is likely to be given the portfolio of Petroleum Minister. There were also consultations on dividing the Ministry of Information and Broadcasting into two, with separate Ministers of State for both Information and Broadcasting.