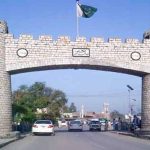 MIR ALI: The repatriation process of internally displaced persons (IDPs) to North Waziristan Agency (NWA) is underway as 67 more families of Mir Ali tribe reached Spinwam tehsil here on Monday.
The IDPs repatriation is underway and so far the total number of repatriated families reached to 1500.
Political administration has said that a caravan carrying IDPs belonging to 67 families left Bannu for Spinwam tehsil in North Waziristan. Stringent security arrangements were made on Miranshah road, from the Mirzail checkpost, to North Waziristan.
Besides the Pakistan Army, the political administration and the FDMA were facilitating the repatriation process of the displaced people of North Waziristan. More than one million registered IDPs are living in camps and rented houses in Bannu district.
Officials said that each family had been given Rs25, 000 as cash assistance and Rs10, 000 as transportation expenses at Mirzail check post located in the limits of Bakakhel, Bannu. They said that ration for six months and a kit containing non-food items would be given to each family. Children under five years of age were administered anti-polio vaccines and under 10 years were given measles vaccines.