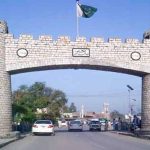 ISLAMABAD: Oil & Gas Regulatory Authority (OGRA) on Wednesday submitted a summary to the petroleum division recommending that the prices of the petroleum products should be decreased by up to Rs44.07 per litre starting from May 1.
According to sources, the regulatory authority forwarded a summary to the petroleum division suggesting a cut of at least Rs20.68 in the petrol price.
The summary also recommended to reduce the high speed diesel by Rs33.94 per liter and kerosene oil by Rs44.07 per liter.
The Ministry for Finance will consider the recommendations of the OGRA on Saturday, and make its decision accordingly.
On Tuesday, Adviser to the Prime Minister on Finance Dr Abdul Hafeez Shaikh said that the cost of energy and travel will decrease with the reduced oil prices in international market and the government will pass on the benefit of reduced oil prices to public.
Speaking exclusively in Dunya News program "Dunya Kamran Khan kay Sath", he said that the country's economy was improving before the outbreak of novel coronavirus pandemic and local currency had stabilized but the coronavirus epidemic hit our economy.
He said that the lockdown has reduced economic activities and the contraction of the global economy has reduced our exports.
"The country's economy was at crossroads when Pakistan Tehreek-e-Insaf (PTI) came into power," Dr Hafeez said and added the government even halted the military budget to put the country's economy on track. "Funds were allocated to give concessions to the businesses," he said.
The adviser expressed fear that tax revenue would be affected due the out break of coronavirus pandemic and annual economic output is expected to decline by 1.5% during the current fiscal year.
He said that following the historic decline in global oil prices, the government had reduced the price of petroleum products by Rs15 per liter and we will announce further reduction in petroleum prices, adding that the cheaper petroleum products will reduce travel and energy costs.