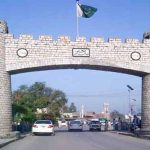 ISLAMABAD: The Oil and Gas Regulatory Authority (Ogra) recommended Rs0.85 decrease for petrol prices on Friday.
According to the details, the Ogra has recommended 0.85 decrease in petrol prices and Rs2.40 decrease in the price of high-speed diesel per litre.
Ogra has forwarded the summary to the Ministry of Energy (Petroleum Division), which would send it to the Ministry of Finance for approval. The government will decide on the price revision.
The fuel prices will likely to be decreased if the Ministry of Finance approves the new summary of the Ogra.
The finance ministry will take a decision on the summary after approval from Prime Minister Imran Khan. The new price will be implemented from December 1, 2019.
In the previous month, the Ogra recommended the government to increase petrol prices.
According to the details garnered, the Ogra has recommended that the price of petrol may be increased by Rs1 per litre and the price of high-speed diesel by Rs0.24 per litre. It has suggested Rs6.56 per litre hike in the price of the price of light diesel.
For both petrol and high-speed diesel, the suggested increase is less than one per cent while the proposed reduction for kerosene oil is 2.4 per cent and LDO 7.14 per cent.