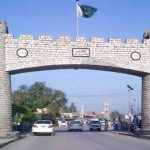 A woman died and five persons sustained injuries during torrential rains, hail storms and dusty winds that continued in the Khyber Pakhtunkhwa for the third day in a row on Tuesday.
Heavy rainfall partially destroyed fourteen houses, while nine houses were totally collapsed across the province. In recent snow and rains Upper Dir was hit the most and North Waziristan was also severely affected by the weather.
Thunderstorm and rain affected other parts of the country, including Islamabad, Punjab, North and Central Balochistan, upper Sindh and Gilgit-Baltistan, while Kalam, Malamjabba and Astore were hit by snowfall.
According to the Pakistan Meteorological Department (PMD) forecast, dry weather would continue in most parts of the country, while cloudy weather with the chances of rain and snow over high mountains at a few places in upper K-P, Kashmir, G-B and Pothohar region during morning hours was expected in the next 24 hours.
A strong westerly wave was affecting the upper and central parts of the country and might continue in the upper parts till Wednesday morning, the PMD office reported.
On Wednesday more widespread rain with wind and thunderstorm is expected in all districts of KP, while heavy to very heavy rainfall and a few hailstorms are also expected in the province. Heavy rainfall may trigger landslides in Chitral, Upper Dir, Upper Swat, Shangla, Kohistan, Mansehra and Battagram districts. Flash floods are also expected in the river, streams and local nullahs and urban flooding in Peshawar, Mardan, Charsadda, Abbottabad and DI Khan.