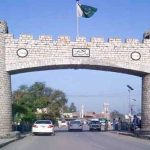 PESHAWAR: Khyber Pakhtunkhwa Assembly was informed on Monday that one million out of school children have been enrolled during special enrollment campaign in April 2019.
Responding to questions of opposition benches, Advisor to Chief Minister on Education Ziaullah Bangash said that efforts are underway to enroll one point six million out of school children by the end of this year.
He said the government has started second shift classes in various schools in the province to enhance literacy ratio.
The advisor said buildings have been acquired to start special classes to achieve the targets.
Responding to a call attention notice of Inayatullah Khan of Jammat-e-Islami Minister for Communication & Works Akbar Ayub Khan said that government has increased retirement age from sixty to sixty-three years to save to eighty-billion rupees.
The house unanimously passed a resolution asking the federal government to initiate at least one direct flight from Peshawar to Lahore on daily basis.
The house also passed the Khyber Pakhtunkhwa Civil Servants (Amendments) Bill-2019.
Later the Speaker adjourned the house to meet on 5th of August in afternoon.