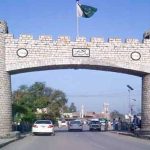 ISLAMABAD: Opposition Leader in the National Assembly Syed Khursheed Shah has advised the government to contact military leadership to resolve issue of ongoing protest by religious parties at Faizabad Interchange.
Talking to the media here in Islamabad, the Pakistan Peoples Party (PPP) said that contacting the armed forces for aiding civil power was a constitutional right of the government.
The Opposition Leader added that talks should be held to resolve the protest by religious parties and added that former prime minister Nawaz Sharif was responsible for the present situation.
With regards to the Elections Act Amendment Bill, the opposition leader said they would try their best to pass the amendment in the National Assembly today.
He further said that a disqualified person leading a party could never yield positive results.
After passing it in the Senate, the opposition parties are attempting to pass the amendment bill in the National Assembly which seeks to reimpose the ban on disqualified parliamentarians from heading political parties.