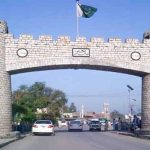 At least 30 people lost their lives and over a hundred others were injured in a stampede during the Ashura mourning procession in Karbala city of Iraq on Tuesday.
The stampede was triggered as a walkway collapsed as Shia community people were observing one of the most solemn holy days of the year. It was feared that the number of deaths will increase and condition of some of the injured was stated to be critical.
During the Ashura, hundreds of thousands of people converge on Karbala, about 80km south of Baghdad, for the occasion every year. Shia pilgrims converge on Karbala annually to commemorate the martyrdom of Hazrat Imam Hussain (RA), grandson of the Holy Prophet (Peace Be Upon Him). People in Iran, Pakistan, Afghanistan, India, Bangladesh, Lebanon and other areas were Shia community people reside also marked the day with mourning processions, prayers and self-flagellation.
On Tuesday, packed processions of black-clad worshipers made their way to Hazrat Imam Hussain's (RA) gold-domed shrine in Karbala, carrying black flags with his name written in red and wailing loudly.
The worshipers were panicked as a part of the walkway collapsed and it resulted into stampede. Officials said the stampede took place during the "Tweireej" run, when tens of thousands of people rush towards the shrine around noon.
It is the deadliest stampede in recent history during Ashura. In 2005, at least 965 pilgrims heading to the Imam Kadhim shrine in Baghdad during a different holiday died after rumours of a suicide bomber in the crowd sparked a mass stampede.
Pakistan expressed sorrow and grief over Tuesday's stampede in Karbala.