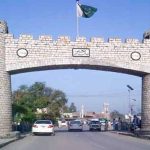 The Deputy Prime Minister of Afghanistan Maulvi Abdul Kabir has meet with the Pakistan charge d' Affairs to Kabul Ubaidul Rehman Nizamani here at Kabul on Wednesday.
According to the statement of the Afghan presidential office, Maulvi Abdul Kabir congratulated Ubaid-ul-Rehman Nizamani on taking his charge and hoped that he will work for improvement relationship between both countries.
In the meeting, Maulvi Abdul Kabir also brought up problems in issuing Pakistani' visas to Afghanistan, border issues at Torkham and Spin Boldak and discussed ways to boost bilateral relations.
The deputy prime minister also stressed that problems Afghan businessmen occasionally experiencing should be resolved. To assist the Afghan businessmen, the Pakistani's government must pay special attention to these issues.